The 1915 Pleasant Valley, Nevada Earthquake
Nevada's Largest Earthquake
The Pleasant Valley earthquake of October 2, 1915 was the largest earthquake in Nevada's recorded history. This earthquake ruptured the ground about 50 miles south of Winnemucca, and left a scar along the range front that was more than 35 miles long. In places, the ground surface was offset vertically by as much as 19 feet. The earthquake had a magnitude of 7.3 and was felt throughout Nevada. Damage occurred in many places, but was strongest in Pleasant Valley and in the towns of Kennedy and Winnemucca. Continue reading...

More on the 1915 earthquake:
1915 earthquake photos

Photos after the 1915 Pleasant Valley, Nevada earthquake. This earthquake is the largest
earthquake ever recorded in Nevada.


Nevada earthquake video
Damaging Earthquakes in Nevada poster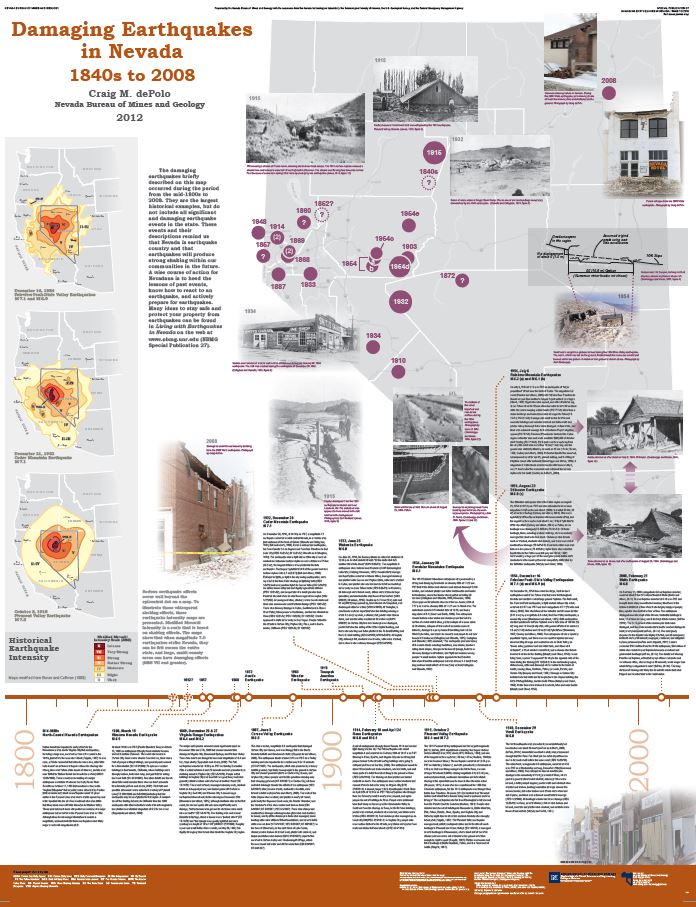 Click image above or go here for downloadable pdf of this poster and here for downloadable pdf of accompanying text.
See also:
The November 21, 1910 Tonopah Junction earthquake, and the February 18, 1914 and April 24, 1914 Reno earthquakes in Nevada
Effect and response in Nevada to the Great 1906 San Francisco, California Earthquake

Reevaluation of pre-1900 earthquakes in western Nevada



Earthquakes in Nevada map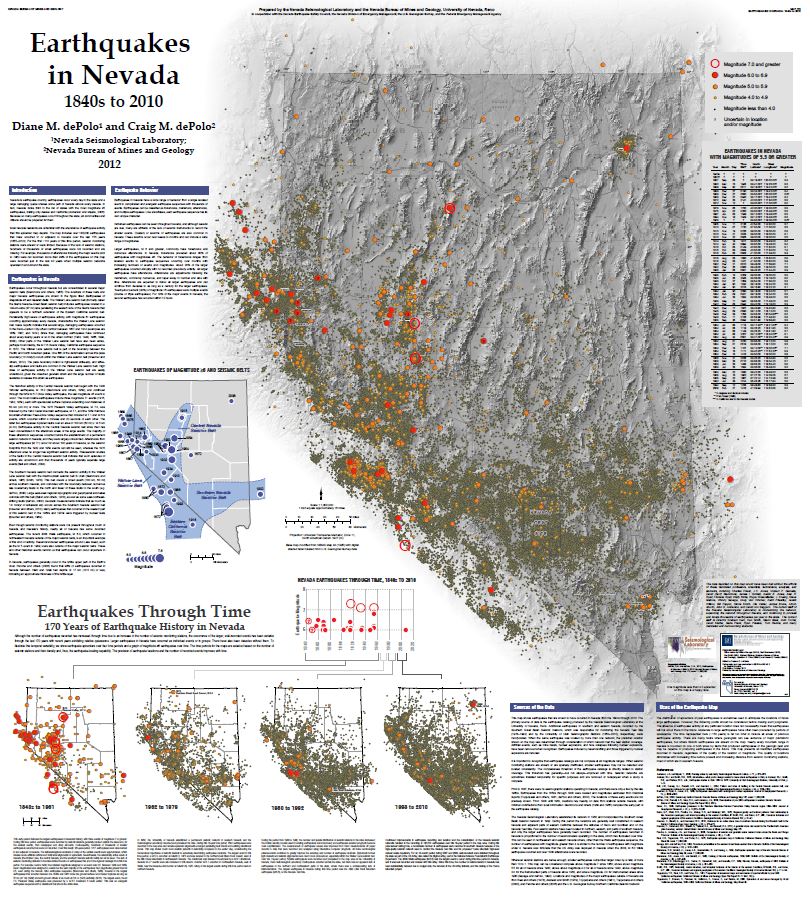 Click image above or go here for downloadable pdf of this map.
See also: Magnitude values used for M≥6 earthquakes in Earthquakes in Nevada: 1840s to 2010, NBMG Map 179


Living with Earthquakes in Nevada guide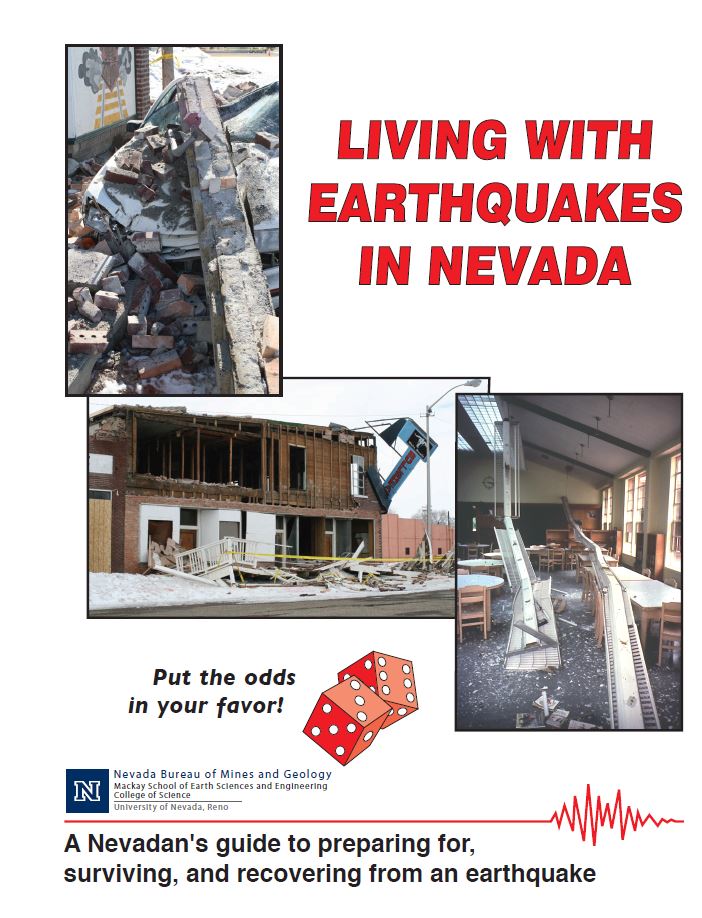 A must read for Nevadans to become earthquake safe and to learn how to protect their valuables from strong shaking.
Click image above or go here for downloadable pdf of this guide.


Great Nevada ShakeOut
Join millions of people worldwide practice Drop, Cover and Hold On during Nevada's largest earthquake drill! Register at http://shakeout.org/Nevada/
MyHazards web application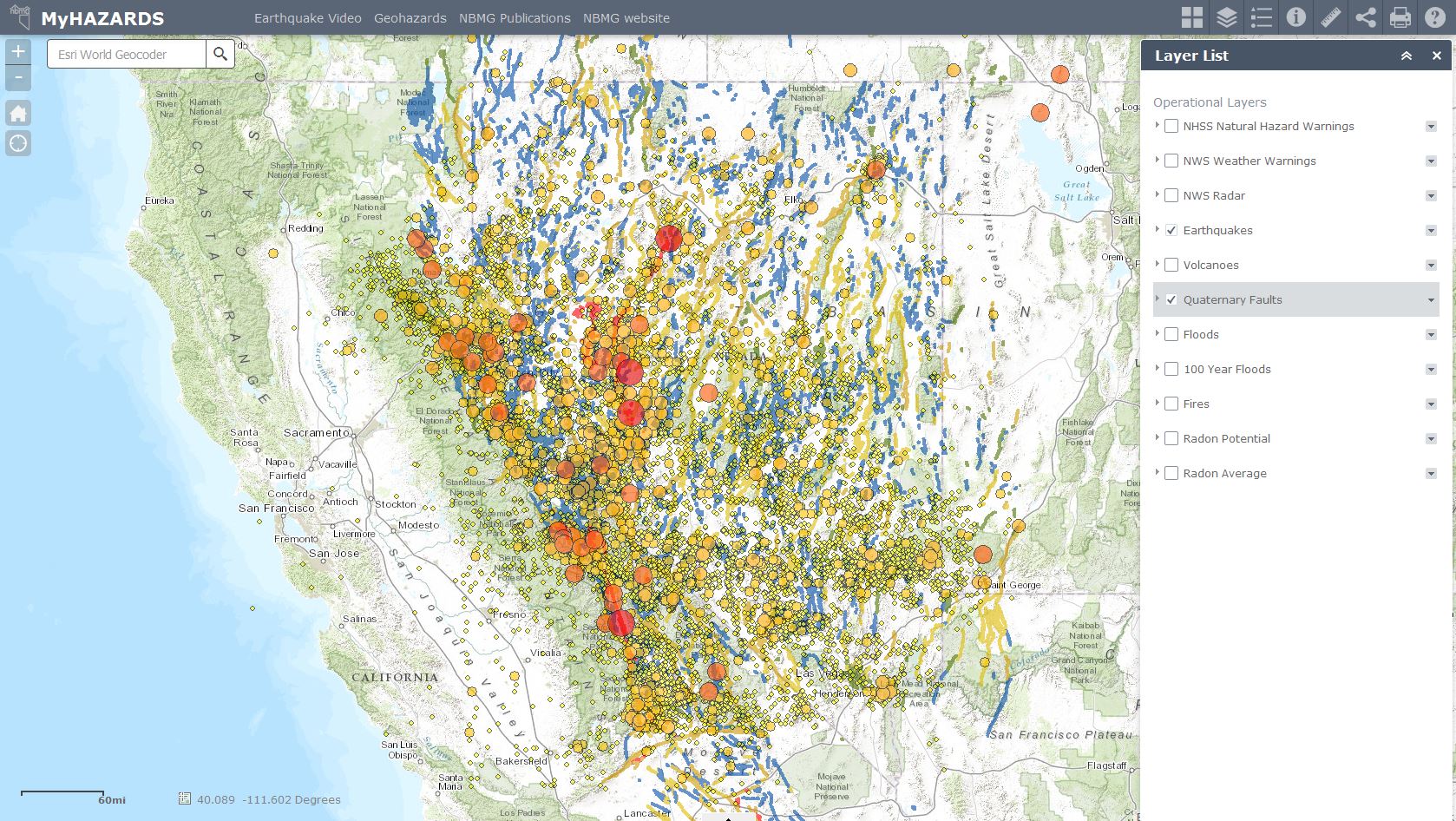 An interactive web map created by NBMG that displays natural hazards in Nevada. Users can turn on hazard layers and click features on the map to learn more information about a particular hazard. For example, a user can click an earthquake epicenter to discover more information such as the magnitude and date of the event. Hazards available in the web application include earthquakes, floods, fires, radon and more. Click the image above or go here to start using MyHazards.


Foreshocks to Major Earthquakes in Nevada
Go here to download Seismological Research Letters paper written by Craig M. dePolo titled, "High Probability of Foreshock Occurrence and Significant Probability of Multiple Events Associated with Magnitude ≥6 Earthquakes in Nevada, U.S.A."


Earthquake Faults in Nevada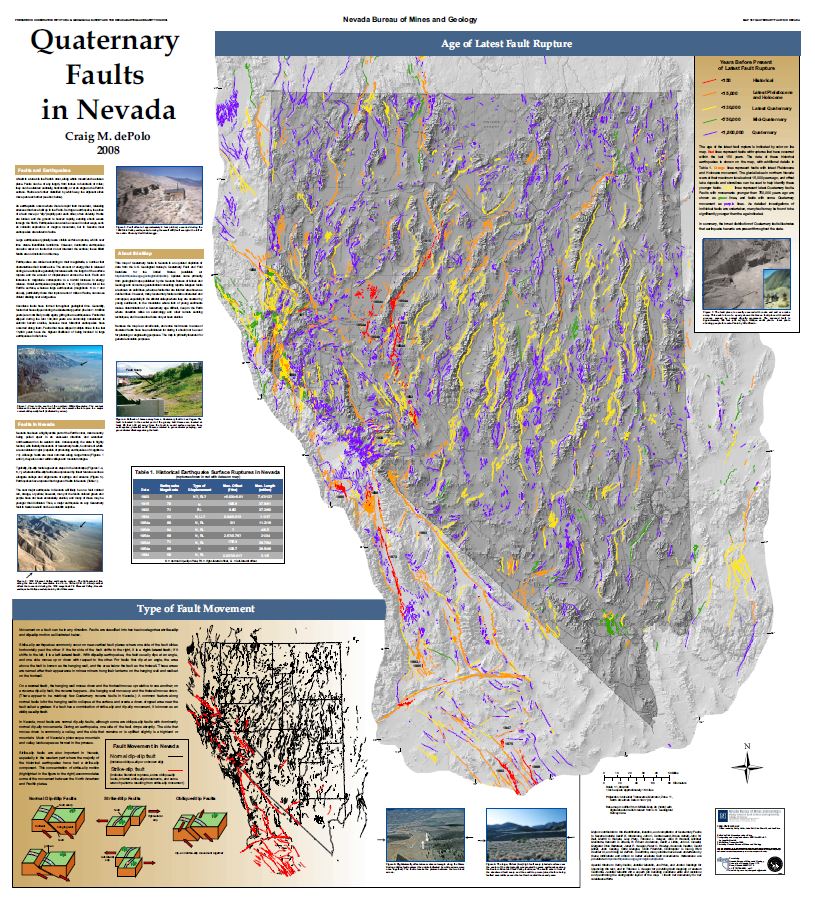 Click image above or go here for downloadable pdf of this map.


Other Nevada Earthquake Information:
Nevada Bureau of Mines and Geology Geohazards page
Nevada Seismological Laboratory
Nevada Division of Emergency Management Earthquake Information page
FEMA report on the 2014 south Napa, CA Earthquake