NBMG Earth Science Week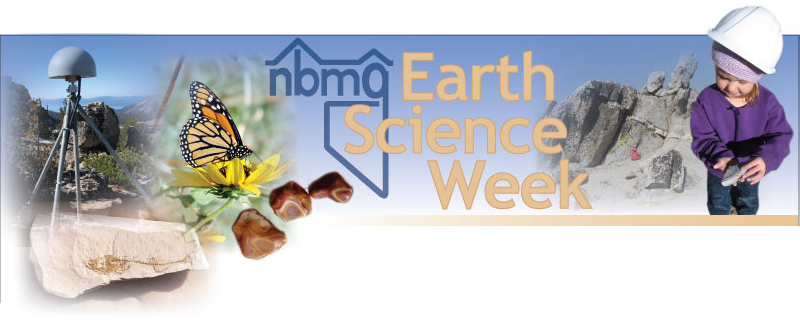 NBMG Earth Science Week Field Trip 2022
Nevada is in Hot Water:
Examples of Geothermal Activity and Resources in the Black Rock and San Emidio Deserts
Sunday, October 16, 2022

This year, Earth Science Week is celebrating the theme "Earth Science for a Sustainable World." In keeping with the theme, our 2022 field trip will take us on a very special tour of Fly Geyser, graciously hosted by the volunteers with Friends of Black Rock–High Rock and Burning Man, followed by a visit to the San Emidio geothermal area. We will be treated to a 30- to 45-minute walk through the riparian zone at Fly Ranch that ends at the geyser, or a shorter walk to the geyser will also be available. We'll learn about the ecosystem, geology, and geothermal history of Fly Ranch. Following our hosted tour at Fly Ranch, we will head to the San Emidio geothermal area to discuss geothermal energy and the geology of the area.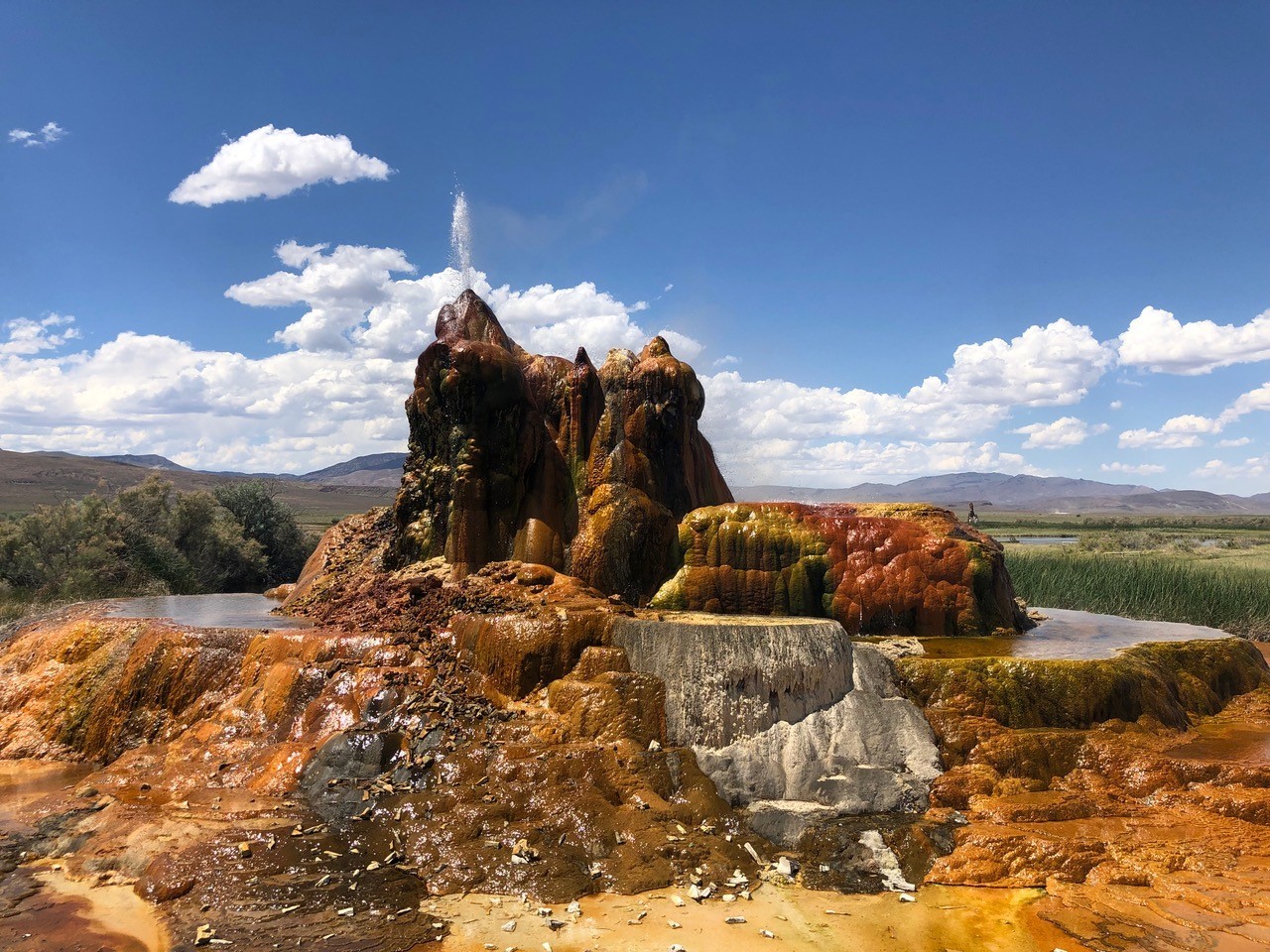 Fly Geyser in all its glory! Photo by Erika Wesnousky.
FREE PUBLIC FIELD TRIP
Click here to sign up for the ESW Field Trip.
This field trip is limited to 50 people, so make sure you sign up early! If you find out that you are not able to make the trip after signing up, please let us know as soon as you can, so others on the waiting list might be able to take your place.
Participants drive their own vehicles. We will be on some graded dirt roads, but 4WD is not necessary.
Two different waivers are required for this trip.
Click here to download the NBMG waiver. To expedite the pre-trip check-in at 8 a.m. on Sunday morning, please email the signed and dated waiver to nbmg@unr.edu with "ESW trip waiver" in the subject line. If you are not able to email us the waiver, you can bring it with you and turn it in at GBSSRL before we leave on the trip. The date on the waiver should be October 16, 2022.
Docent volunteers from Fly Geyser Ranch will have their own separate waivers on hand to be signed by participants upon arrival at the Ranch.
If you are unable to secure a spot for this year's Earth Science Week field trip and would like to check out Fly Geyser in the future, you can request a tour and nature walk from Friends of the Black Rock High Rock here: https://blackrockdesert.ticketleap.com/2022-fly-ranch-nature-walks/
Burning Man and Friends of the Black Rock High Rock have generously waived the fees for our field trip. If you wish to donate to their cause, please follow this link: https://flyranch.burningman.org/
The meetings time for the field trip is 7:30 a.m., and we will be meeting at the Great Basin Science Sample and Records Library (GBSSRL) at 2175 Raggio Parkway, Reno, NV. We will depart from the GBSSRL at 8:30 a.m. sharp. The drive to Fly Ranch from the GBSSRL is about 2 hours and 20 minutes.
The GBSSRL will be open starting at 7:30 a.m. Participants are encouraged to look around our gift shop and are welcome to use the restrooms before we depart.
The new Nevada Geology Calendar 2023 will be available for pickup that morning before the trip if you have prepaid on our shopping cart. Any calendars preordered by October 14 will receive a $2 discount per calendar.
Be sure to bring water, lunch, sunscreen, hat, first aid kit, walking stick, gloves, camera, binoculars, bag or bucket for collecting samples, and safety glasses if you use a rock hammer. The day's activity will involve hiking and climbing around rocks, so wear appropriate outdoor clothing and sturdy shoes or hiking boots. We will only be allowed to take photos at specific areas at Fly Ranch.
Children are welcome to attend – please indicate how many children you have in your party so we can prepare the appropriate materials. Please, no pets as they are not allowed at Fly Ranch.
We will be monitoring for any new developments with COVID state mandates and act as necessary.
Approximate Schedule
7:30 a.m. – Meet at the Gold Building (opportunity to use the restroom and browse the gift shop)
8:30 a.m. – Depart from the Gold Building (GBSSRL) parking lot
11:00 a.m. – Arrive at Fly Ranch
11:30 a.m. – Begin tours
1:00 p.m. – Lunch
1:30 p.m. – Depart Fly Ranch
2:30 p.m. – Arrive at San Emidio
4:00 p.m. – Depart San Emidio
Return to Reno at your own pace via preferred route.

The field trip flyer, important contact information, and more details about the trip will be emailed on Friday, Oct. 14 to those who have registered.
In the meanwhile, take a virtual tour of the field trip destination:
https://360vr.burningman.org/flyranch/index.htm
https://flyranch.burningman.org/"
Earth Science Week is October 9-15, 2022. For more information about educational activities during Earth Science Week, go to the national Earth Science Week website at: http://www.earthsciweek.org
"Since October 1998, the American Geosciences Institute has organized this national and international event to help the public gain a better understanding and appreciation for the Earth sciences and to encourage stewardship of the Earth." (ESW website)
ESW Proclamation by the Governor
Be sure to check out NBMG geologic guidebooks!