NBMG Earth Science Week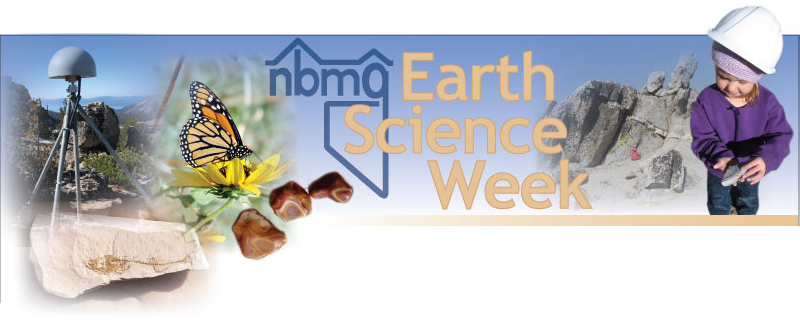 NBMG Earth Science Week Field Trip 2021
A Tale of Three Rivers and the Rapidly Evolving Landscapes of Western Nevada
Saturday, October 16, 2021

This year, Earth Science Week is celebrating the theme "Water Today and for our Future". In keeping with the theme, our 2021 field trip will take us on a tour of our three rivers here in western Nevada starting with the Truckee River and ending along the banks of the West Fork of the Walker River in Wilson Canyon. We will discuss the geology and ecosystems along each of these rivers and their surrounding watersheds, geothermal energy production, past mining activities, landscape evolution, and natural hazards. We will also learn about the history of Buckland Station, Fort Churchill, and Mason Valley. Thank you for being a part of our Earth Science Week tour!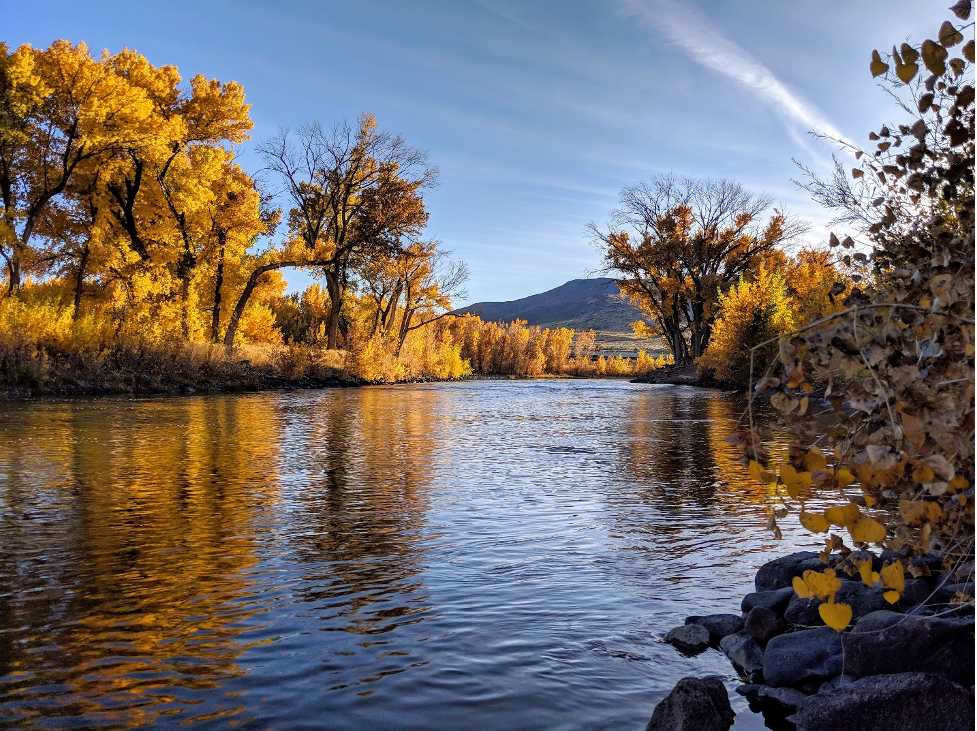 Fall colors on the Truckee River, Storey County. Photo by Rachel Micander.
FREE PUBLIC FIELD TRIP
Click here to sign up for the ESW Field Trip.
Waivers must be completed and brought with you to the field trip. Click here to download the waiver.
The start time for the field trip is 8:00 a.m. and we will be meeting at the Great Basin Science Sample and Records Library (GBSSRL) at 2175 Raggio Parkway, Reno, NV. We will depart from the GBSSRL at 8:30 a.m.
Masks will be required regardless of vaccine status and we ask that everyone social distance during the field trip stops. Thank you for your cooperation!
Be sure to bring your own mask, water, lunch, sunscreen, hat, sanitizer, first-aid kit, walking stick, gloves, camera, binoculars, bag or bucket for collecting samples, and safety glasses if you use a rock hammer. The day's activity will involve hiking and climbing around rocks so wear appropriate outdoor clothing and sturdy shoes or hiking boots. Bathroom breaks with developed facilities will be available during the trip.
You must sign up online prior to the field trip and sign a waiver. Please print out a paper copy, sign, and date, and submit prior to the field trip or bring to the field trip starting point. We will be monitoring for any new developments with COVID state mandates and act as necessary.
ESW Field Trip Flyer (PDF)
Approximate Schedule
8:00 am – Meet at the Gold Building
8:30 am – Depart from the Gold Building parking lot
8:50 am – Stop 1: 102 Ranch Trailhead—Truckee River and Tahoe-Pyramid bike path
10:00 am – Depart 102 Ranch Trailhead
10:45 am – Stop 2: Buckland Station and Carson River
12:15 pm – Depart Carson River
12:30 pm – Stop 3: Thompsons Smelter/Wabuska Geothermal
1:30 pm – Depart Thompsons Smelter
1:50 pm – Stop 4: Yerington Mine
2:50 pm – Depart Yerington Mine
3:05 pm – Stop 5: Wilson Canyon—West Fork of the Walker River
Return to Reno at your own pace via preferred route (finish loop through Carson City or backtrack through Yerington) or follow the caravan back.
The Field Trip Guide, important contact information and more details about the trip will be emailed on Friday, Oct. 15 to those who have registered.
Earth Science Week is October 10-16, 2021. For more information about educational activities during Earth Science Week, go to the national Earth Science Week website at: http://www.earthsciweek.org
"Since October 1998, the American Geosciences Institute has organized this national and international event to help the public gain a better understanding and appreciation for the Earth sciences and to encourage stewardship of the Earth. This year's Earth Science Week will be held from October 11–17, 2020 and will celebrate the theme "Earth Materials in Our Lives." The coming year's event will focus on the ways that Earth materials impact humans—and the ways human activity impacts these materials—in the 21st century." (ESW website)
ESW Proclamation by the Governor
Be sure to check out NBMG geologic guidebooks!