Earth Science Teacher Workshops

Bureau staff regularly participate in teacher workshops sponsored by the Nevada Mining Association and Nevada Division of Minerals. There are two earth science workshops a year, one in southern Nevada and one in northern Nevada. The goal of these workshops is to educate K-12 teachers about the earth sciences, the importance of mining in Nevada, and the role that mining plays in our everyday lives. Through the classroom materials and lessons provided in the workshop, teachers will have the tools to provide accurate, standards-based science education to their students (Nevada Mining Association).
Staff currently teach sessions on Minerals, Rocks & Geology, Topographic mapping and modern day mapping, among others. Below are a selection of activities from these sessions taught during the workshops. For more information about these workshops and activities, please contact Rachel Micander.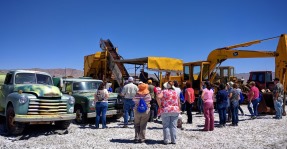 CLASSROOM ACTIVITIES
--Ride the Rock Cycle
--What is a Mineral?
--Mineral Haiku
--Mineral Identification & Worksheet
--Identifying Minerals using Hardness and Density
--Rocks and Geology Exercise
--The Rock Key
--Rock Obituary


POSTERS AND DIAGRAMS FOR ACTIVITIES
The Rock Cycle
Geologic Deposition and Formation Environments